Little Kickers WA Master Franchise Up For Grabs!
by 17th of February, 2021
---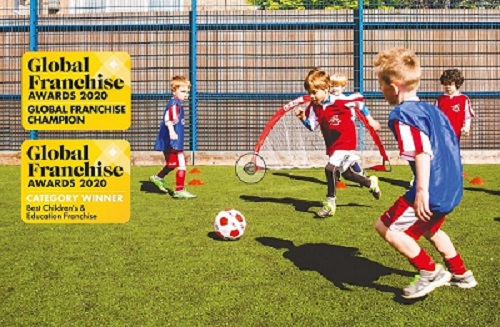 Little Kickers was the first company in the UK to operate educational football (soccer) programmes for pre-school children via a far-reaching network of franchisees, and is now the largest global operator in this space, having established the business in 34 countries.
Little Kickers provides as many children as possible with a fun, positive introduction to sport whilst maintaining a high level of quality in all their classes. Franchising with Little Kickers is a very cost-effective way of becoming your own boss whilst buying into a global award-winning business and having that sought after work/life balance!

Little Kickers has an amazing opportunity in WA to take over the Master Franchise to grow, operate, and sell territories right across the state with all training and support included.
Little Kickers provide everything a franchisee needs in order to set up and run their own successful business in their local area, with the comfort of knowing that they will benefit from a world-class brand, infrastructure and support. Franchisees undergo three days of desk-based training initially, where subjects such as finance, marketing, data protection, health and safety, employee relations, finding a venue and training coaches are covered in detail. There is also practical training, where franchisees have the opportunity to get involved in classes with experienced coaches, and really get to grips with how a physical class is run.

Franchisees also receive ongoing video / online training material updates for dissemination to their coaching teams. The administration of the classes is managed through a customised version of the Salesforce system and franchisees receive upfront training on IT / how to administer their classes. The Head Office team carry out a lot of digital marketing support for franchisees, but franchisees are also provided with lots of materials which are continuously updated, so that they can carry out their own local marketing campaigns. Franchisees also receive discounted rates on a range of merchandise.

How we are tackling COVID19 challenges?
Fortunately, we switched the entire business over to a new IT system (Salesforce) and moved to monthly recurring billing rather than invoicing our customers in advance for 12-week courses. As a result of this, when we locked down in most countries in March, our franchisees were able to put our customers' memberships "on hold" rather than having to refund them. Then when it was safe to reopen, we just started up where we'd left off. We managed to maintain the bulk of our customers by doing this whereas had we not moved to monthly billing we would likely have had to processed hundreds of thousands of pounds of refunds.
We're lucky insofar as, as an organisation we have very low fixed costs – all of our HO team and franchisees work from home and we pay coach wages and venue rental costs by the hour. When everything got locked down, we no longer had to pay for venues and government schemes helped out with coach wages. So, in a sense our franchisees were mostly able to just "switch off" their businesses for the months we were in lockdown.
We took the initial decision not to try to move the entire business online and continue charging. Rather, we decided to try to engage our customers with lots of free online content: games, coach interviews, free classes on YouTube / FB etc and this seemed to be appreciated and kept our customers engaged.
Interested?
Price: $30,000
Contact: M Lacey
Mobile: 0466 606890
Bsale ID: 271566
See the full business for sale listing
---