Nikki Katz Business Broker – Salon Sales Specialist
Nikki has risen to the top of the Australian business broking industry with a mission to shake up the industry with a modern perspective and "can-do" attitude. She dedicated herself to honing her understanding of Australian business, and gaining insights into what motivates business purchasers and investors. Before long, she solidified that statement within the industry, receiving the REIA Australia National Business Broker of the Year Award, 3 years in a row – amongst numerous others awards.
Today, she strategically applies her knowledge, business experience and innate sense of flair to the sale of Australia's most desirable businesses. Offering a bespoke, boutique service to prestigious businesses, Nikki is selective and deliberate in her approach to clientele.
What you can expect:
Tailored attention to your unique and individual requirements
A modern perspective, representing the "new way" of selling businesses
A hands-on approach, managing every step of the process
High-end, sophisticated professionalism
A dealmaker, matchmaker and liaison, constantly on the lookout for that perfect fit
Feature Interview in Bsale Magazine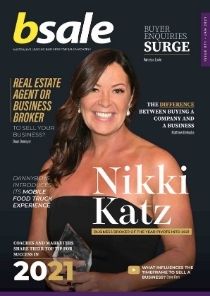 January 2021
Australian Business Broker of the Year Pivots into 2021
by Vanessa Lovie 6th of January, 2021
Nikki Katz is at the top of her game as a business broker, having successfully completed multiple transactions for beauty salon and clinic owners across Australia. Winning the AIBB Australian Business Broker of the year in 2019 & 2020 and the REI Award for Excellence Business Broker of the year 2019 & 2020 amongst others, she is an inspiring and dedicated business broker who works hard for her clients.
14 min read
Industries
Beauty and Health