5 Country Hotels for Sale in Australia
Is there anything more quintessentially Australian than a beautiful accomodation business in a country town? Hotels for sale are a popular choice for business owners, especially when considering the importance to the local economy. Buying a hotel for sale can be a great option for a buyer who is relocating as they are a central part of the community and a popular gathering place. You will quickly feel like a local!
When buying a business, a hotel for sale may be an ideal fit for those looking for a tree change. Accommodation businesses can be a good set-up for families or couples who have experience in hospitality, management or customer service. While the tourism industry was affected by the pandemic, many Australians are now keen to get back out and explore, with the regional areas seeing increased tourism.
"We're seeing anything within a three-hour drive of Sydney is doing really well. I'll emphasize that by saying only in leisure travel. There's a lot of media about the South Coast locations, Central Coast, and Blue Mountains. They're all doing fine seems to be the rhetoric, but you know, those markets quite often only rely on weekend travel anyway, and that business has come back strongly. Australians want to get out and support the industry and they desperately want to travel domestically. So, that's great." Matt Davidson, Tourism Property

In the 2022-2023 Federal Budget the government made a commitment to the tourism sector and to help the 300,000 businesses that employ nearly one million workers. This means if you are thinking about entering the tourism industry and buying a hotel for sale, there is a solid plan for the next 5-10 years.
THRIVE 2030 is Australia's national strategy for the long-term sustainable growth of the tourism industry and visitor economy. The aim is to grow the visitor economy to $230 billion by 2030. The Government hopes to achieve this through a number of strategies through three phases that involve;
Recovery Phase 2022–2024
Consolidation Phase 2025–2027
Acceleration Phase 2028–2030
If you buy a hotel for sale, you could be in a prime position to profit from this growth plan.
The plan to bring back tourism to pre-covid levels of $160 billion is in motion for 2024, and to continue to grow this number is a key feature of the latest budget and something people should be aware of when they look at hotels for sale.
Currently, there are grants available for the tourism industry in various states. It is worthwhile looking into the federal, state and local government websites to see what type of grants may be available when you buy a hotel for sale. One such example is the Regional Economic Development Grants available in WA, which provides funding to businesses for projects that create economic growth in regional WA.
With all that being said, here are 5 beautiful hotels for sale in country towns of Australia.
1. Modern Building With Long Term Lease - Ivanhoe, NSW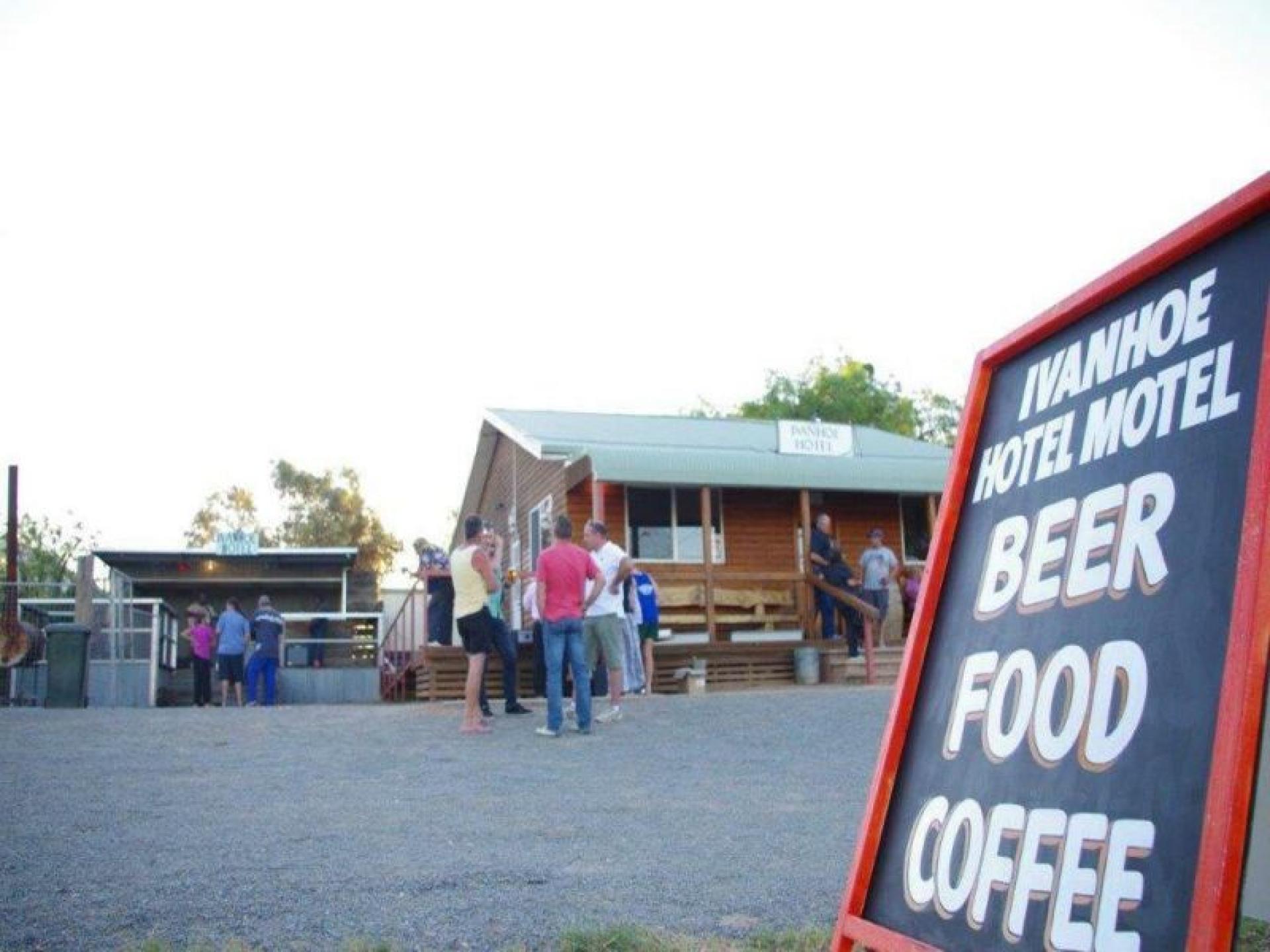 Price: $950,000 - Passive Investment
This is a long-term investment opportunity with a strong lease, with all outgoings paid by the tenant. The hotel for sale is a local landmark for the area, with the old one burning down in late 1995 and this one was built in 1996.
It serves as a service centre for the area and has a constant reliable gathering of locals and tourists alike.
Features Include:
7 newly refurbished motel rooms. They feature brand new queen beds fitted out with fresh linen, air-conditioning, side tables, lounge and ensuite to make the stay a bit more like home
Large country style public bar with long timber counter with stools plus other assorted tables and chairs.
30 seat restaurant serving modern Australian cuisine.
Large landscaped outdoor area with covered areas and bench seating.
The kitchen is suitably equipped to cater to the clientele with commercial appliances, gas facilities, ample bench space and a walk-in cool room.

2. Commerical Hotel for Sale - Cygnet, TAS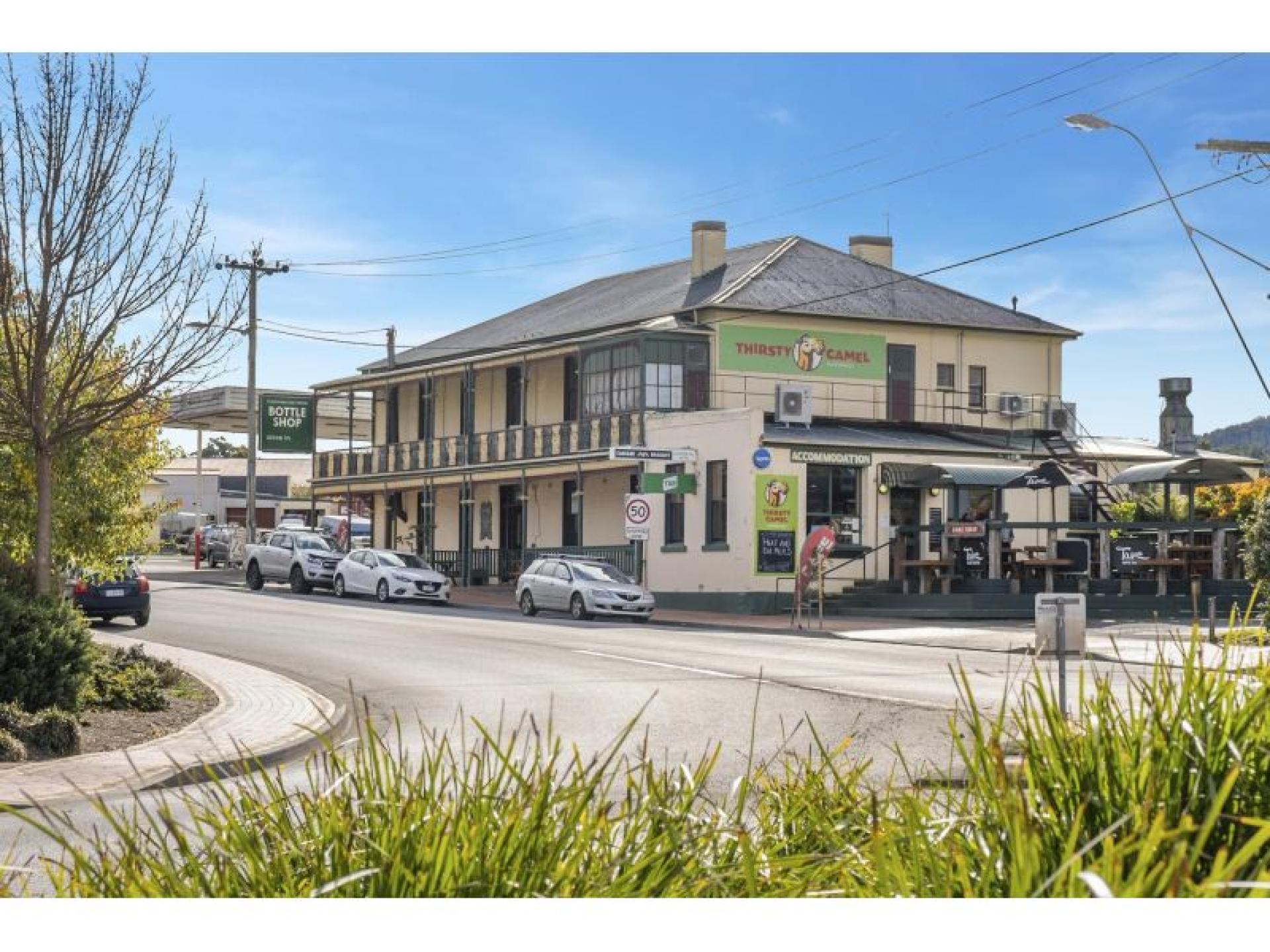 Price: $2,500,000
A busy country hotel for sale with Bar, Bistro, Cafe, Bottleshop & Accommodation. With the added bonus of development opportunity on the current land.
This well-located business & cafe in the increasingly popular town of Cygnet is supported by locals and tourists. Well known for its mix of fresh produce, artists, musicians, and crafts. Providing day-trippers, locals, and tourists with quality food sourced locally in the dining room and separate cafe.
Features Include:
Long history of successful trading
Generates a consistent weekly turnover of $43,000+
2,800 sqm of additional land available for development (STCA)
High volume bottle-shop and some accommodation.
3. Exceptional Lifestyle and Business Opportunity - Porongurup, WA
Price: $2,500,000
Karribank is an accommodation and function venue located on 12.5 hectares at the foothills of the magnificent Porongurup Range National Park. The venue has a rich history, arguably being the oldest continuously operational accommodation site in Western Australia.
Today one of Karribank' s main draw cards is the vibrant "Karri on Bar". This venue is a favourite to locals and visitors alike. The bar is open Friday nights, Saturday, and Sunday supplying award-winning local beer, cider, ginger beer, fantastic local wine and great food.
Set amongst the magnificent grounds and gardens of Karribank is a stand-alone function centre that comes equipped with a commercial kitchen. This building has recently been renovated and is used for events such as weddings, parties and social gatherings.
Karribank is a multiple revenue business providing a very profitable return to the current owners. The business generates income from:
The Karri on Bar and Commercial Kitchen.
Function Centre.
Multiple accommodation facilities being - cottages, chalets and rooms. Collectively Karribank can sleep upwards of 60 people.

4. Commercial Hotel for Sale - Hamilton, VIC
Price: Leasehold - Price on Application
Perfectly positioned on a very busy and prominent roundabout, in the strong regional town of Hamilton in Western Victoria.
This grand old hotel for sale presents as one of the finest in western Victoria and features a well-presented bistro, newly built kids play room, large public bar, commercial kitchen, a fantastic new beer garden with standalone bar and entertainment area, large dual lane drive thru "Liquor Legends" bottle shop, excellent storage and cool room facilities.
The second floor has a 2 bedroom manager's residence, offices, 9 bedrooms and a bathroom, and has the potential for the addition of a rooftop bar and function space (STCA).
Rare opportunity to own such a large hotel for sale in regional Victoria with massive upside don't come along every day.
5. Freehold Country Hotel for Sale, Accommodation & Caravan Park - Mackay + Rockhampton, QLD
Price: $820,000 + SAV
This well-presented hotel for sale with its 130-year history is approximately 1 hour and 20 minutes West of Rockhampton and located at the gateway to the Central Queensland Highlands.
The business is ideally situated amongst farming (crops & cattle), road tech, rail maintenance, ergon energy, and travellers demonstrating outstanding financials and is easily run.
There is strong local patronage as well as the passing through nomads and contract workers, for both food and drink as well as take away liquor, and its commercial kitchen with a classic pub grub menu.
Annual Turnover 2021 $680,000
Net profit excluding managers wage - $172,000 ++
Managers wage $65,000 (Can be added back if owner operators)

This is a fantastic first business for owner operators' families or partnerships. Plenty of room to grow this hotel for sale or run it as-is.

Tags: listicle buying selling entrepreneurs
About the author
---
Catherine Mangana
Customer Support
Catherine enjoys generating articles that highlight some of the opportunities that are now available for purchase on Bsale. She hails from a family of ...
---