Advertising Business For Sale Online
by 11th of September, 2011
---
When it comes to advertising your business for sale online, the most important aspects to consider are:
- Exposure
- Price
- Inclusions
Exposure: Basically, how much traffic is being driven to the website. There is no point listing your business for sale on a website that receives little to no traffic. No traffic = No potential buyers. Some sites claim to get you listed on 10 sites or more! But first, check what those sites are like. There are millions of websites on the internet and if the site cannot be found on page # 1 of Google then there is very little chance your ad is even going to be seen. But in saying that, the more sites you advertise on, the greater exposure you have (it all depends on how much $$ you have for marketing).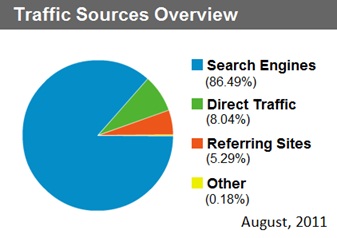 Like most business for sale websites, the majority of Bsale's traffic is driven from search engines such as Google, Yahoo and Bing. Our site receives an average of 1,200 unique visitors a day.
With search engines being the driving force of our traffic its important that we appear on page # 1 of search engines such as Google which accounts for about 72% of the search engine marketplace.
Here are just some of the most common keywords used by individuals when looking to buy or sell a business. Notice something?? There are 50 keywords that result in the http://www.bsale.com.au appearing on page #1 of Google (and this is just a sample). Bsale works hard to ensure it remains among the top on search engines to ensure potential buyers are looking at your businesses and franchises for sale!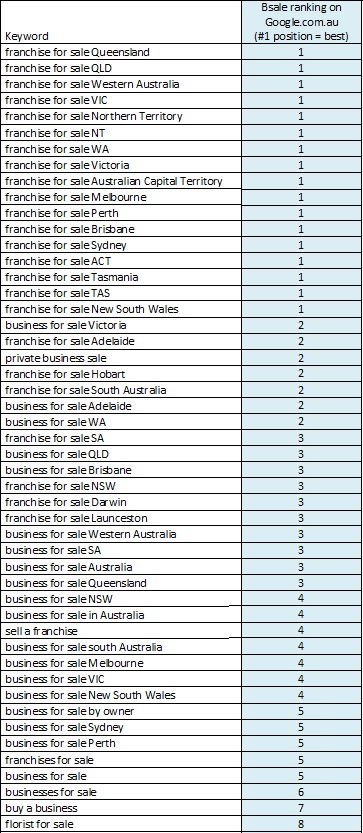 ---
Related Searches
---
Price: Depending on the traffic and functionality of the site, prices can vary from Free - $800 a year. Don't fall into the trap that because something is more expensive that it must be a "better product" or that because its cheap, you're getting a bargain.
Be realistic! Very rarely will a business sell in under 3 months. It takes time to find the right buyer. Any site offering listings under 1 year is not being realistic. Businesses are much harder to sell then real estate as there are so many different facets to consider. Ask any broker and they will give you the same advice. Some business for sale websites will offer you 1 month, 3 month, or 6 month packages… this doesn't mean your business will sell in a month! It takes time to talk to potential buyers, provide a sellers memo, sign confidentiality agreements and process the sale. Potential buyers may enquire and seem interested, but have no finance. It takes time to sell a business.
The world wide web has evolved in such a way that major players such as Google, Yahoo and Bing drive the majority of search engine results. Regardless of the business for sale website we all rely on these search engines. So do your research, are they appearing on page #1 or # 2 for major keywords? If not you're not going to get enquiries, because no one will be looking.
Other driving forces involve social media, do they have a facebook or twitter page? Will your business be mentioned on these sites if you list with them? Social media is an important way for online businesses, to engage with their audience and promote businesses.
Inclusions: What are you getting for your money? I have mentioned the traffic to the site, which is important. Other things to consider are: How many photos can I upload? Is it easy to make changes to my ad? How much text can I include? Can I provide links to another website? Can I keep my listing anonymous? How long will the ad run for? What if I want to upgrade my listing?
Make sure there are no hidden costs! Be sure the website is NOT charging you commission on the sale, as they are merely an advertising platform and not a broker, so a sales commission cannot be charged.

Hopefully this article helps shed some light on the online advertising market. If you choose to go with Bsale, we will work hard to give your business the exposure it needs. We work endlessly on SEO and Social Media to ensure our site is receiving quality traffic. We are proudly Australian owned and have been operating since 2000.
Was this article of any help to you? Have you used any business for sale websites? How did it go?

Read Similar Articles

5 Tips to Advertise a Business For Sale Online
Im Looking to Sell my Business Online for Free
Creating an Online Course is Easier Than you Think
---