Arnold P Kelsey - The Golden Boy of Business Brokers
Arnold P Kelsey
Success isn't built overnight, with over 20 years of experience in the world of business, Arnold Kelsey spoke to Bsale about how he became the successful broker he is today.

Leadership came naturally

"When I was in my early twenties, I was trying to decide whether I should obtain my MBA or not or find a suitable position and start work. I decided to take my time and not rush into it…I found a job as a storeman/forklift driver working in the warehouse/logistics side of an automotive manufacturing company." Arnold said.
It was at this warehouse job that Arnold found himself gravitating towards leadership roles and it was clear he had an aptitude for business.
"I started working and very quickly found the leadership in my area to be very average. I clearly remember running into a gentleman on my way to the rest room, he introduced himself as just Max and I introduced myself. I assumed he was an accountant or a salesman. He asked me how things were going in my area, I replied honestly and told him that it wasn't very well organised. I also said that I was trying to sort things out without stepping on anyone's toes. He asked me if I could improve everything if I was in charge and I said; definitely yes." Arnold said.
As it turned out, this man was the owner of the company and within six weeks, Arnold was put in charge of the warehouse/logistics area.
"The promotions didn't stop there, within less than two years I was promoted to Production Manager, in charge of five departments and over 200 people. I was only 24."
After 10 years, Arnold decided he wanted his own business so started a company manufacturing plastics.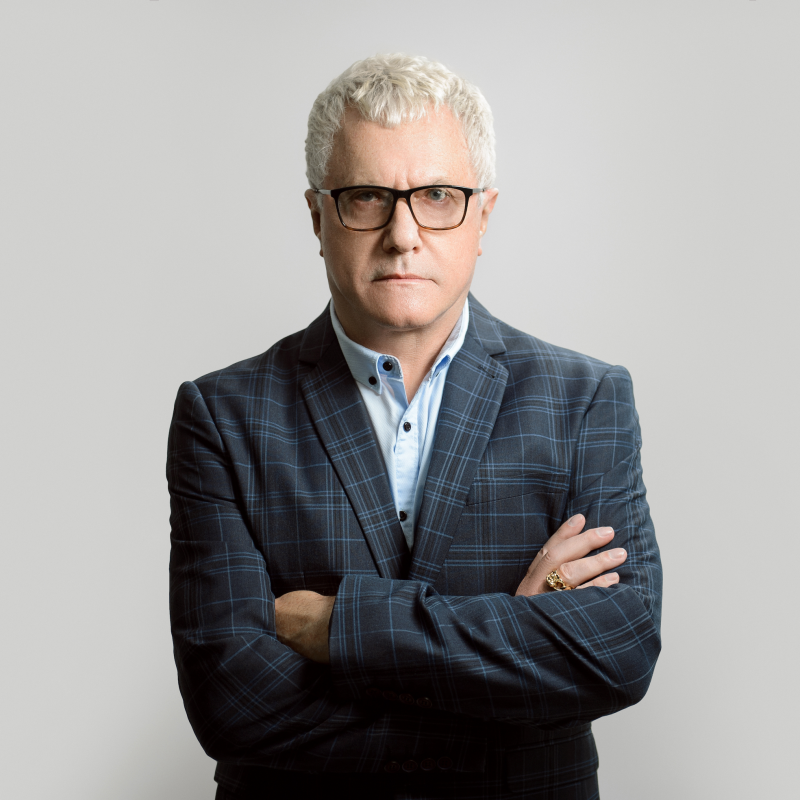 The Golden Boy

From a young age, Arnold was referred to by his friends and family as 'the golden boy". This carried through to his professional career where he's regularly praised and asked to complete the hard tasks.
"It was always 'Arnold is just one of the best' and I was lucky enough it followed on into the work environment. When I worked for other people, if they ever had any sort of an issue or problem, 'go and see Arnold'. They had this incredible regard and respect for me. So that has made it very easy for me and when I decided to start my own businesses, I had the same response from my customers." Arnold said.
---
"Customers always recommended me to someone else, customers always said look you know we've been trying to get this done somewhere else we've been trying to do this…we know you can do it."
---

It's not just talk; Arnold can put his money where his mouth is. His fast and growing success as a business broker is a testament to this. With a diverse business background from nightclubs to manufacturing businesses, Arnold has a thorough understanding of the intricacies of operating small to medium size businesses and he "especially loves the financial side of things." Making the move to brokering was an obvious decision.
Transitioning to Brokering
"It was a bit difficult becoming a business broker, to start at the bottom again." Arnold said.
After having such a successful career as a business owner, it's no easy feat to start back at the bottom of a new career.
"97% of people that become business brokers drop out." Arnold said, explaining that one of the main reasons for this is the workload and that many new brokers ``can't handle it, you have to make yourself available. Quite often somebody will ring and say 'I have a business for sale' if I don't get back to them very quickly they will just ring somebody else and if they pick up first, they will."
"To be successful, and if you enjoy your job, you gotta make yourself available and you gotta be prepared to make yourself available 24/7. It's easy for me because I don't have a family, I don't have commitments, kids to take to soccer or music lessons." Arnold said, while commending his colleagues that do.
"I think it's the same in Real Estate, maybe more so, because you have to do a lot of weekend work and the successful ones are the ones prepared to do it."
"I'm a Business Broker and the majority of the population do not know what it is that we actually do." Arnold explains, "Business brokers are not salesmen, we are intermediaries, we assist buyers and sellers in the buying and selling process. My successful business experience, my financial acumen, my strong work ethic and my logical approach to solving problems makes me the ideal candidate to assist in the sale and acquisition of a business or a commercial property."
"None of us are, or can be, expected to be experts in every field. My advice is to always utilize the services of experts in their respective fields. Do not attempt to do it all yourself."
"I firmly believe that to be a success in the field of business broking, the goal should be about achieving win-win results for the sellers and buyers alike." This is what Arnold calls success.
---
Related Searches
---
Business is Business. What it takes to sell.

"I've had something to do with so many different areas in my life that I don't have any problems… for example today, I just settled on a beauty salon."
Arnold has never worked in a beauty salon, but he understands how business works. Business is business.
"I can read their financials, I understand the demographics, all that sort of thing. So, I took it [the beauty salon] on because I felt I could sell that business. This lady contacted me roughly 12 months ago. She had a beauty salon and had to close down for 2 months because of the pandemic."
The seller rang Arnold expressing her frustration with the broker she was currently with at the time, saying the broker did nothing for her but she still wanted to sell.
"As usual I asked for a lot of information. I have this policy that I will not list a business unless I am convinced I can sell it, if I can't sell it, I think I should tell them that and they should find someone else. She gives me all the information and I said to her 'well there is no way in the world I can sell it right now'." Arnold said.
"I said to her 'look, you've just reopened, you are telling me that the business you expect it to go back to normal and you will make the same amount of money as before' but as a buyer, how do I know that is really gonna happen?" Arnold told her if she wanted to get the price she wanted, then she had to wait five to six months, offering her assistance if she needed it and wished her luck.
Arnold followed up with her in December to find out how she went. The business was doing well and she still wanted to sell but was already with another broker. Another four months go by and the seller reaches out to Arnold again, telling him how unhappy she was with the new broker.

---
"She already had 2 brokers she was unhappy and she says 'are you prepared to help me?'… I sold that business in 6 weeks."
---
"There is a lot of luck, but it is how you promote it. Almost everything now adays is sold through the internet and sure, we have a huge databases and people approach us, but everything is done on the internet. You need to make the ad attractive to the sort of people who want to buy it and that's what we try to do, that's what I do with my ads and today we had settlement." Arnold said happily, as he adds "I'm on a real buzz".
"I've got one extremely happy seller and one extremely happy buyer. Of all the people, I really wanted to sell hers." Arnold said, pride coming into play because the seller "already had two other brokers that had failed, I knew I could do it."
"That's one of the things that's enjoyable about this job, yeah look you have your ups and downs, and a lot of disappointments, but you also have these moments like today which is great, and I was able to do it for both the buyer and the seller." Arnold said.

Why the move to Brisbane

"One evening in Brisbane, I met the principal of ABS Business Sales, the agency that I'm currently associated with. He believed that my business expertise, my financial acumen and my MBA as well as my work ethic made me the ideal candidate to become a business broker." Arnold said
Arnold spent the majority of his adult life in Melbourne (with a stint abroad in the USA to get his MBA), uprooting and moving to a new city is never easy but starting a new career at the same time adds a significant challenge.
"The biggest obstacle that I faced after joining ABS Business Sales was overcoming the difficulties associated with relocating to a new city. I was in a new city, not having a network of contacts or friends was and still is a major issue for me." Arnold said and just as he started networking and getting new business contacts, COVID hit, and everything came to a complete stop.
"I wasn't the only one affected by the complete economic impact of the pandemic, but it was devastating for me." Arnold said but in spite of that set back, he still managed to have "a brilliant start at ABS Business Sales."
As a new broker at a brokerage, this is a testament to Arnold's drive to succeed.
---
"In my first full twelve months with one of the largest business sales offices in Brisbane, I was able to obtain 20% of all listings for that year."
---

ABS Business Sales

Arnolds fast success as a business broker was noticed, in such a short time Arnold has built an incredible reputation and has already been approached by two other brokerages to join them but he says he has no intention of leaving ABS Business sales.
"I'm very happy working with these guys. Some of the guys here are just amazing, you're talking about [people] who have got a lot of experience. I'm the sort of person who likes to do things by myself, but we all need help, we all need assistance and it's great to have people who support you." Arnold spoke highly of his colleagues in Brisbane, a high feat as he proclaims himself to be "one of those guys who is very hard to impress."
"We are also lucky in the sense that we've got our support staff, it's just really top notch, they are always there to assist us. That is one of the highlights of working with ABS, the support that I have received from the brokers, the principal as well as the supportive staff has been great." Arnold said.
"The only thing we have as business brokers are our reputations, if people start to say oh look you can't trust Arnold. Do I really want that? No, I don't. I'm a very proud person, I want people to say that I'm great."
And who could blame him and with his current trajectory, Arnolds results truly speak for themselves.
Tags: feature magazine business broker success
About the author
---
Caitlin Mary
Journalist
Caitlin has a background in media and communications, studying journalism at University and doing various freelance writing and production work over ...
---