The Small Business Support Line has reached its 40,000th call. The service was established by the Australian government in September 2009 in response to the global recession to help individuals with enquiries regarding: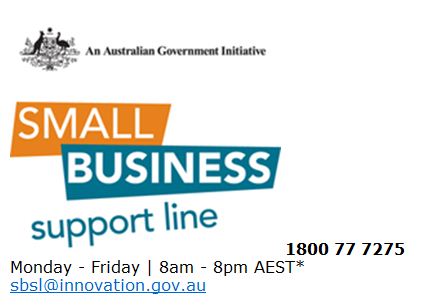 finance and cash flow management (including loan and banking products)
marketing and promotion, including research and statistics
business planning and diagnostic services
legal, accounting and taxation services
registration and licences
e-business and online assistance
Occupational Health and Safety (OH&S)
government initiatives, grants and assistance
employing staff
home-based business
importing and exporting
tenders and contracts
intellectual property
franchising
insurance
retail leasing guidance
personal stress and hardship counselling
government regulation
human resource management.
---
Related Searches
---
Today, the small business support line is serviced by small business experts and continues to offer advice on a range of business topics including taxation, finance, cash flow, marking, business planning and connecting individuals with other support services available.
---
Small Business Support Line 1800 77 7275.
There is also a live chat option provided by business.gov.au
The Support Line is open from Monday to Friday from 8:00 am to 8:00 pm (AEST).
---
JUNE REPORT:
Until 30 June 2011
33,699 calls
have been answered and
4,154 emails
* sent. The 'Live Chat' service has seen
1,526 chats
initiated by small business customers.
The top 5 call enquiries are about:
Registration and licences Government initiatives,
grants and assistance
Starting a business
Legal, accounting & taxation services
Business planning and diagnostic services
The top 5 industry sectors using the support line are:
Retail Trade
Professional, Scientific and Technical Services
Construction
Health and Community Services
Accommodation and Food Services
---
This free service provided by the Australian government is an important one for all small businesses. Have you ever used this support line? Would you reccomend it to other small businesses?
Information provided by: http://www.business.gov.au and http://www.ausindustry.gov.au/
Read Similar Articles
Selling your Small Business on a Budget