Matt Davidson
Sydney NSW, Canberra ACT,
Matt started his hospitality career in Dunk Islandresort in tropical North Queensland in 1996 and has genuinely done it all in the industry since then.
As more then a decade as owner and co-founder of a highly successful hotel management , development and consultancy firm (2T), Matt founded Tourism property in 2016.
In his first two years, Matt had already completed over $40 million in tourism property transactions, all between Wollongong and Batemans Bay on the NSW South Coast.
Matt is well versed in tourism development and international investment plus highly experienced in listed and unlisted property funds, receiverships and has a firm knowledge of property, company and tax law.
Feature Interview in Bsale Magazine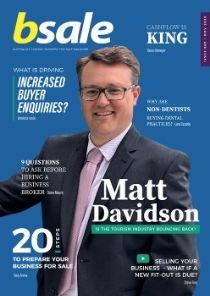 November 2020
Is the Tourism Industry Bouncing Back?
by Vanessa Lovie 9th of November, 2020
We spoke with Matt Davidson from Tourism Property based in Wollongong NSW. A specialist business broker focused on accommodation businesses valued from $5m to $25m. With 25 years of experience in the tourism industry, he has a wealth of knowledge that is valuable to business owners, investors and prospective buyers.
23 min read
Locations Serviced
Sydney NSW, Canberra ACT,
Industries
Accommodation & Tourism Commercial Property
Languages Spoken
English
Licensed to Operate in
NSW, ACT,