LINK's Expansion Fuels Success
LINK's Expansion Fuels Success.
From an inauspicious start as an entrepreneur, Farzin Hesari has worked hard to build powerhouse business brokerages – first in Tasmania before expanding to Melbourne and, more recently, Adelaide.
In the early 2000's, Farzin realised that the growth and income opportunities for business owners far exceed those of employees, so he decided to enter the import business. Saving sufficient funds from his part-time employment for his first order, he confidently paid $1,000 for a shipment of DVD players from China.
Farzin explained, " I could bring them into Australia for about $150 and sell them for $500 or $600 each, which is cheaper than you could find them anywhere else. I thought that was a good way to make some money."
However, the supplier's enthusiasm for sending the goods did not match Farzin's enthusiasm to receive them, and eventually, Farzin had to accept that he had been scammed. Fortunately for future-Farzin, he decided that this disappointment would not determine his fate.

This early experience taught him the value of research and that everyone you deal with in business does not share common interests, so a degree of healthy scepticism is required until trust is earned. He borrowed another $1,000 from the bank of Mum and Dad and tried again.
"This time, I did my due diligence and made sure the supplier was legitimate. I made sure it was an operating business, I spoke to the people, and I got advice from other importers."
Repeating the process many times over the next few years, the orders and the range of products became bigger until the business finally outgrew his parents' garage. After his friend made an amicable exit from the business, Farzin tried to continue with outsourced help, but he quickly realised that it was time to sell the existing inventory and move on - which he did.
THE VIDEO ERA

With the surplus funds he raised, 17-year-old Farzin decided to buy a video store with potential in a small shopping centre.
While negotiating the lease transfer from the existing owner, Farzin's determination piqued the landlord's interest.
"He happened to be a very prominent businessman, and I was a teenager putting in an application to transfer the lease from the existing owner. He was thinking, who is this 17-year-old trying to buy a business with cash? He met me and saw something in me, took me under his wing, and mentored me to this very day."
THE LIGHTBULB MOMENT
After successfully operating that video store for a few years, Farzin decided to sell. He was advised to engage a real estate agent to assist with the transaction.
As Farzin explained, "The real estate guy says, 'how much do you want to sell your business for?' I was expecting some guidance on what it was worth, but no, I had to tell them. The agent said, 'You just tell me what you want for it, and we'll sell it.'"
Disillusioned with this situation, Farzin decided there had to be a better way. He continued, "I started researching online.
I was looking for my next business opportunity where I could use my background in finance and my Bachelor of Business. So, I was back and forth, testing my ideas and thinking about what I wanted to do in life. I thought there has to be a better way for people to confidently know what their business is worth and who might be interested in buying it as well as how to market it."
"During my search, I came across LINK Business Brokers. I could see that their systems and processes were market-leading, but there was still room to improve".
Farzin joined LINK in 2015 with the intention of building a career as well as changing the way the business broking industry operated. He worked hard and successfully marketed many clients' businesses the way he envisioned. The LINK organization noticed his success, and he was invited to become part of the network.
Being given a greater degree of control was all Farzin needed. He proceeded to help further develop LINK's robust systems related to business value appraisals, customer relations, marketing, and comprehensive training for new business brokers entering the industry. These systems are continuously refined and upgraded for implementation throughout the LINK network in Australia & New Zealand.
The effectiveness of the LINK systems was demonstrated with the acquisition of the Melbourne office (formerly Klemms) in 2018. Since converting to the LINK process, the business volume has doubled and is still improving. This process is being duplicated in the recent acquisition of the Adelaide office.
---
---

SO, WHERE TO FROM HERE?
Of course, Farzin is not ready to slow down. He disclosed that, in early December, he and his childhood friend and business partner Nawwar Alshawi, entered into a joint venture partnership of the LINK Business Brokers master franchise in Australia and has significant expansion plans for the group.
"We're in the process of expanding and growing the network, bringing on new franchise partners and new brokers to join the existing offices. We'll be doing a roadshow next year and expanding into all (not just some) major cities.
We're also going to be creating new offices within those cities and expanding further into Western Australia, Northern Territory, Far North Queensland, and other areas in Victoria and New South Wales. There's plenty of growth for us in 2023."
"We may decide to enter a new market by acquisition of an existing firm or opening a brand- new office, but more recently, existing brokers have approached us wanting to join the LINK Business Brokers group. They want to join the only real national or international business broking network. They want access to the benefits of being part of the network."
"Access to our training and market value appraisal systems and other software, as well as our CRM systems, are major benefits. We provide all the IP and the technology to create and hold excellent brokers."
The training, which includes six months of mentoring, is invaluable for those just starting out. The training program is structured and expertly delivered by successful brokers.
A key feature of the training is negotiation skills which are a critical part of the broking business. Walking the fine line between a buyer and a seller is an important skill to achieve a successful transaction.
"All our brokers receive training on becoming expert negotiators. We've redefined and refined this training over many years, and I genuinely believe nobody else in the world does what we do."
Training also extends to potential vendors who are trained in business valuation principles, including the key factors affecting the current market value appraisal of their business and how to improve the market value.
The vendors are also educated on the need for accurate and reliable financial information.
"If the vendor cannot provide us with accurate and true financial records, we can't demonstrate and justify the market value to potential buyers."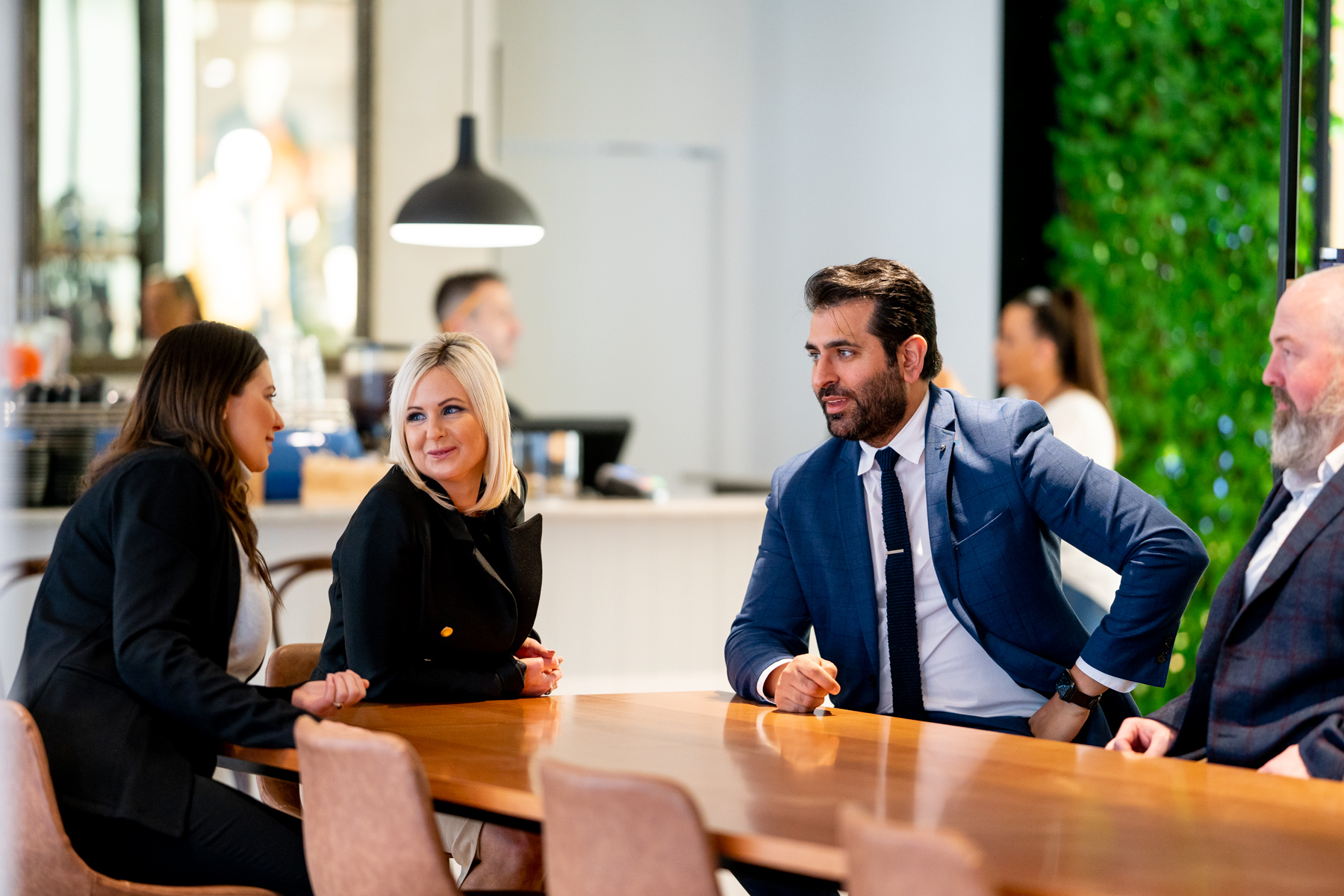 WHAT MAKES A SUCCESSFUL LINK BUSINESS BROKER?
All the training and resources cannot guarantee success.
Farzin attributes the success of individual brokers (and the LINK Business Brokers network) to a strong adherence to four fundamental values.

Integrity.

"What we do could make or break people. It can cost lives and cost relationships. So, we're very careful that we bring the right people on the journey because we don't want to do a transaction if it's going to be detrimental to somebody else. So, integrity is the biggest part of our core values."

Innovation and Disruption.

"We are very innovative and extremely disruptive in what we're doing, and we're going to be challenging everything that the business broking industry knows and has been doing. From valuing businesses to marketing, to negotiations, to training, we are continuously refining these looking for improvements."

Collaboration.

One of the opportunities available to members of the LINK Business Brokers network is the opportunity to work with many brokers across the country. For this reason, all members are encouraged to collaborate on creating deals, sharing innovations, and enhancing the growth of the network.

Celebrating success.

"We celebrate success because we want to work with people that want to be successful." Whether creating a successful deal or creating an opportunity for someone else, being willing to acknowledge and celebrate the win is important.
In summary, "For us, success means working collaboratively, working with integrity, being part of the passion for the disruption we're going through, and celebrating the successes is the key. When you do the best for your vendors and your purchasers, the money will come. You don't become successful by chasing the money."

ARE HIGHER INTEREST RATES MAKING IT TOUGHER TO SELL BUSINESSES NOW?

Farzin does not believe interest rates will affect business sales significantly. He explained, "the traditional return on investment on a business, let's say, ranges from 35%, all the way up to 100%, depending on risk, where the current market interest rate is about 7 or 8%. So, the margin of safety is quite large. Interest rates aren't a big factor in determining whether to buy or sell a business unless someone's highly leveraged on the transaction."
However, he sees continued high demand for quality businesses. He considers that businesses are bought for strategic reasons by other businesses or by individuals looking to replace incomes following redundancies or simply the desire for a change.
"I believe people who have come from either an executive level or middle management level, where they've got experience in managing people, will do really well managing businesses. They'll take on businesses that may be struggling and put their expertise and talent into turning those businesses around."
Sign up to Newsletter
Weekly updates on business sales and advice, delivered to your inbox.
ARE THERE ANY HOT INDUSTRIES AT THE MOMENT?
LINK Business Brokers are seeing strong demand for businesses in the service sector - medical, dental, commercial cleaning, building services, maintenance, logistics, transport, childcare, and anything in allied health areas.
Farzin also included hospitality businesses. "Contrary to what people might believe, there is always a demand for businesses in the hospitality sector. If location, rent, and takings line up, the business will sell. The challenge with those industries is finding suitable staff to run them. It's not just that the borders have been closed restricting the number of backpackers; it's that people only want to work for three or four days or want to work from home."
Unfortunately, there's no easy solution to this problem, so Farzin believes that there will be a high turnover of these hospitality businesses in 2023 as the current owners decide that the industry is not for them and seek an exit.
And Farzin could not avoid the temptation to add business broking to the "what's hot" list. He is keen to talk to any broker looking for an opportunity to join a strong and dynamic network of business brokers or someone wanting to consider joining the industry.
Related Articles
How to Get Top Dollar for your Business in 2023
A Quick Appraisal Doesn't Mean a Quick Sale
10 Reasons You Should Strategically Buy a Business
Tags: feature magazine expand. selling business broker success
About the author
---
Allan Johnson
As a former accountant and financial planner with almost 50 years in the industry, Allan has a wealth of experience to share. Offering his unique pers ...
---