Milawa's Historic 160 Year old Property with Four Income Streams is for Sale for $1.375 Million
Milawa's Historic 160 Year old Property with Four Income Streams is for Sale for $1.375 Million
Originally the first public building in Milawa, this property has been a local icon for over 160 years. Situated on the main road it has served as a courthouse, restaurant, maternity hospital, police station and it has been said that Ned Kelly, awaiting trial, was held in the Beechworth jail cell that has been on the property for 102 years. Now renovated, the cell makes a perfect place for an intimate private lunch.
Over the past two years this property has undergone significant renovations and the opportunity to acquire 1597 Snow Road Milawa Victoria has become available.
With four income streams from Milawa Providore & Café, Redbank Wines Cellar Door, The Old Emu B&B and The Old Barn events venue, there is now a great opportunity to acquire this property and run as a business or convert to a stately country residence.
The 3021 sqm property has been listed for sale with a price guide of $1.375 million and will include the freehold property, business rights and furniture on a walk-in-walk-out basis.
The current owner explained, "When I set out on this project, I wanted to create a venue that could become a gathering place for locals but one that also appealed to the passing tourists while retaining the historical features of the property. Milawa was already known as a gourmet region catering to food and wine lovers. This property is now a part of that culture."
"I'm excited to see where the next owners will take this amazing opportunity, by continuing what I've started or going in another direction altogether."
"Being so close to the snowfields is a huge drawcard during the ski season, and the opportunity to enjoy gourmet food and excellent wines makes us an ideal venue all year round"
What was once a tired second-hand goods store was converted into luxury accommodation by the current owner due to tourist demands. The onsite luxury couple's retreat is rented through Airbnb with a 4.98 rating and over 50 reviews. The current tariff is $299 a night.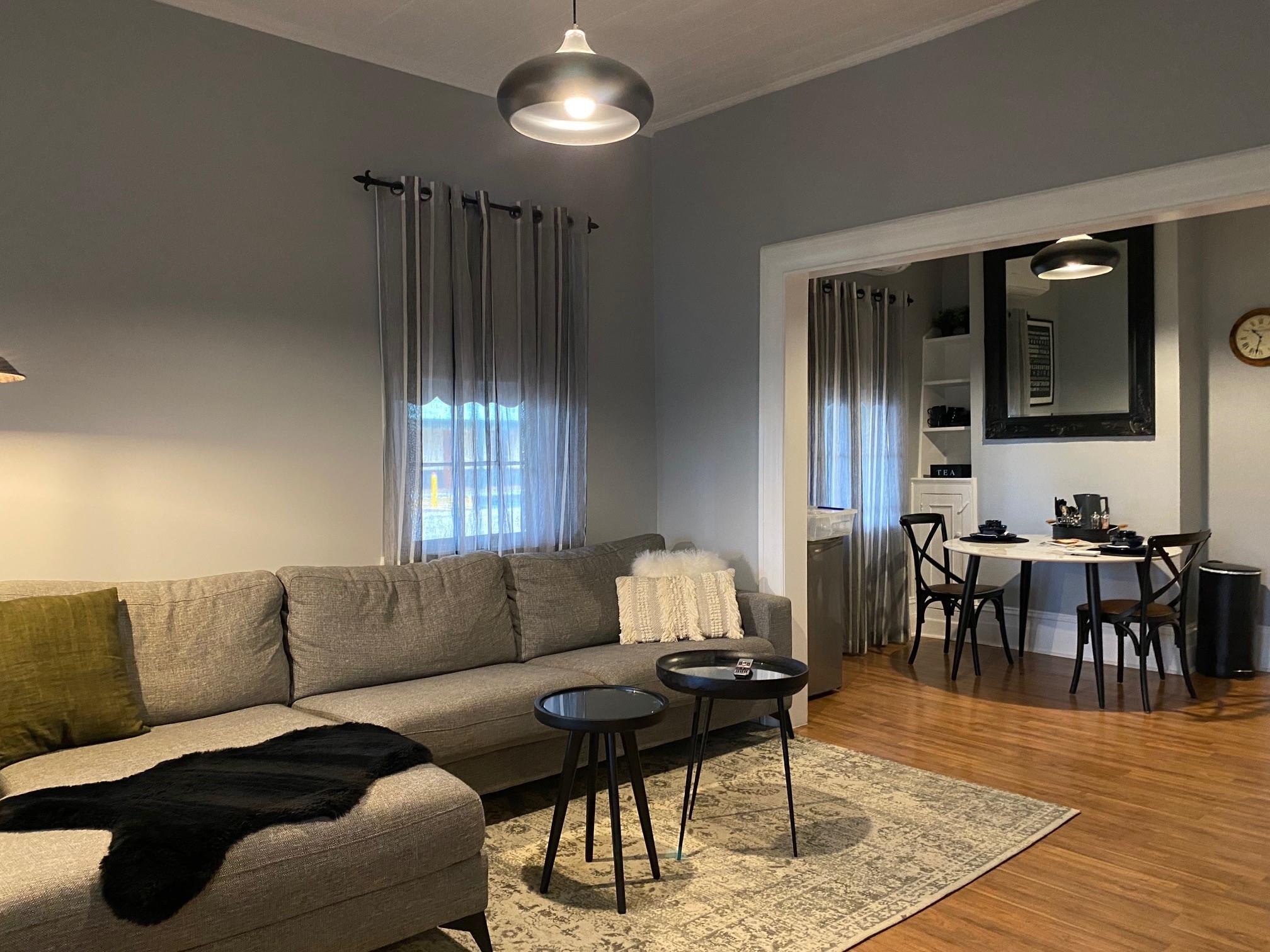 The main drawcard for tourists is to visit the cellar door for Redbank Wines and the Milawa Providore which is located in the old courthouse building. The spacious bar offers ample room for tasting wines, gins, and old-fashioned mead.
The cellar door stocks local food items, olives, hot chocolate, jam, honey, oil, and scented candles in recycled wine bottles. The purchaser could further adapt this space to accommodate a range of additional features.
The 160 year old history of this property is evident throughout. The main buildings are constructed of handmade clay bricks that have retained their original features and warmth. The original build used the clay beneath the main building to make the bricks, and the resulting space has been converted into a large cellar, used today for wine storage.
There are two charming tearooms for dining, the Kettle Tearoom, seating 12, and another providing private dining for up to eight in a light-filled, sunny room with a wood heater.
On the grounds a pizza oven enclosure was custom built with servery, lighting & power to assemble, cook and serve wood-fired pizzas straight from the oven to the customers outside.
This property is located in the King Valley which is known as a perfect location for dream weddings, and this property also offers a fabulous, rustic wedding venue.
This multi-purpose venue can be all-inclusive with events, ceremony and reception options. The bride can walk down a rose-lined garden aisle to a magical wedding arbour beneath a towering gumtree, lit up with fairy lights.
In 2021, the new 248m2 marquee was erected seating up to 120 guests that opens to the historic timber barn with bar, dancefloor and custom built bench seating.
Jenny Chellew, the property's listing agent said "the upgrades and improvements that have been done are to a very high standard and sympathetic to the property's rich history. This property is a rare gem full of possibilities for an astute buyer".
This property encompasses multiple income streams along with onsite living quarters, providing a great opportunity for someone moving to the area. With the recent renovations over the past two years, it is well worth an inspection.
1597 Snow Road Milawa Victoria
Tags: victoria opportunity listicle
About the author
---
Allan Johnson
As a former accountant and financial planner with almost 50 years in the industry, Allan has a wealth of experience to share. Offering his unique pers ...
---